Network Requirements for the HyperV Network Sensor:

CPU – 4 Cores, 8 GB RAM and 64 GB Disk Space




Extra Physical NIC for the External traffic to be monitored.



Download the Network Sensor with the below link:
Download file from release link: https://acps.aelladata.com/release/2.3.2/datasensor/aella-ds-2.3.2.vhdx

Username: AellaMeta

Configuring Windows Server 2012+ Hyper-V Virtual Machines for Port Mirroring

Complete the two following tasks to set up port mirroring on a Windows Server 2012 R2 Hyper-V host.

Important: Before you configure port mirroring on a Windows Server 2012 VM, make sure that the Microsoft packet sniffing tool hotfix is applied.

Configuring the Virtual Machine to Capture Mirrored Traffic

To configure the virtual machine you want to use to capture mirrored traffic

Open the Hyper-V Manager and right-click the machine that you want to use to capture mirrored traffic.



Select

Settings

.



Expand the associated network adapter and select

Advanced Features

.



Scroll to the

Port mirroring

section and set the

Mirroring mode

to

Destination

.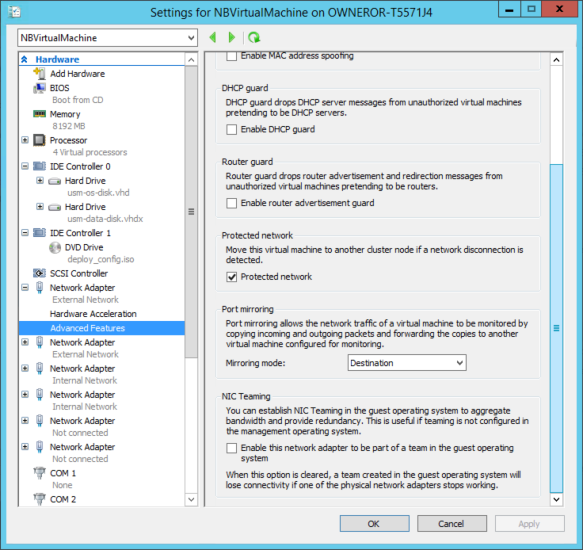 Click

Apply

and

OK

.



Configuring the Mirror Port

To configure the mirror port

Open the Windows PowerShell console.



Enter



$a = Get-VMSystemSwitchExtensionPortFeature -FeatureId 776e0ba7-94a1-41c8-8f28-951f524251b5

$a.SettingData.MonitorMode = 2

add-VMSwitchExtensionPortFeature -ExternalPort -SwitchName <virtual_switch_name> -VMSwitchExtensionFeature $a

Important: Be aware that, if you enable promiscuous mode for a physical port, it directs all the traffic received on that port towards the virtual machine destination.

To learn more about configuring port mirroring on a Hyper-V virtual machine, refer to this article on the Microsoft website.